Breakfast
View our Recipes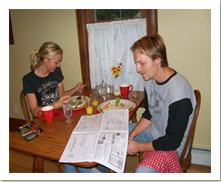 Anita's specialty is serving you an Ole' Fashion Farmhouse Breakfast. Awaken to the aroma of fresh brewed coffee available in our hospitality area at 7:30 AM. If you would like coffee brought up to your room earlier, just make arrangements with the innkeepers. Need a special diet? Just make your needs known during the time of the booking your room. All breakfasts, when possible, use produce from our organically grown vegetable garden, local Amish or other local Farmer's Markets.
We take pride in promoting our state fruit. The cranberry is Wisconsin's official state fruit. In fact, Wisconsin produces more of this power-packed berry than any other state in the U.S. The cranberry is a little, red tart fruit with a big punch. It is also the state's number one fruit crop, both in acres planted and in the industry's valuable contribution to the state's economy.
The cranberry, once called "crane berry" by settlers because of its blossom's resemblance to the sandhill crane, is best known for its place on the Thanksgiving table. But, the fruit has become a year-round favorite, and is making its way into everything from summer cranberry smoothies and salads, to trail mix and cookies. You'll find cranberries served at least once during your stay. It may be a piece of CranWalnut Pie served with Cranberry Ice Cream, or how about a dish of cranberry ice on a hot day? In fact during your visit you might get to meet our daughter, Rachel who is the 2008-2009 Cranberry Queen.
Also Offered:
Refrigerator available for guest use
Complimentary soda, juice and water
Afternoon tea and sweets
Complimentary signature cookies
What Our Guests Have to Say...
"It was really a pleasure meeting the family and staying over for the night. Breakfast was terrific as well as the excursion thereafter. We know that you will have a lot of success with your new venture and we will recommend your B & B to anyone coming into the area. Good Luck!"
Bob & Barb from New York