This recipe came from a friend, Janice Knutson who owns and operates along with her husband, The Grapevine Log Cabins in Sparta, WI. I have given this recipe out so many times to our guests and friends. Try using blueberries when in season. They are so delicious!
Scone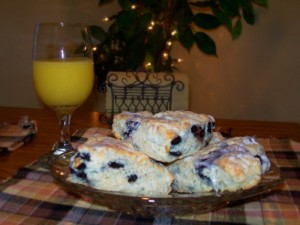 2-1/2 cups flour
2-1/2 teaspoons baking powder
1/2 teaspoon baking soda
3/4 cup cold butter, sliced
1 cup fresh or frozen cranberries, sliced
2/3 cup sugar
3/4 cup buttermilk
Almond Frosting
1 tablespoon butter, softened
1/2 teaspoon almond flavoring
1-1/2 cups powdered sugar
3 tablespoons milk
Preheat oven to 400 degrees F. In a large bowl, mix the flour, baking powder and baking soda. Cut in butter until the mixture is pea sized. Add the cranberries and sugar; stir well. Add the buttermilk a little at a time, mixing until blended.
Divide the dough in half and roll each piece out into an 8-inch circle bout 1/2-inch thick. Cut each circle into six wedge-shaped pieces.
Put wedges on two cookie sheets and bake for 12 to 15 minutes.
After the scones have cooled, drizzle with almond-flavored icing.
Frosting instructions: In a medium bowl, cream the butter and almond flavor with an electric mixer. Gradually add the powdered sugar, scraping the sides and bottom of the bowl often. Slowly add the milk, mixing until light and fluffy.