Amil's Inn provides Simple, Comfortable and Cozy Driftless Area Lodging
Amil's Inn Bed and Breakfast, your source for delightfully friendly Driftless area lodging, is located 2.5 miles south of Wilton, Wisconsin just minutes from the Elroy-Sparta Bike Trail. Innkeepers David and Anita Reeck invite you into their country home for a retreat from every day life. It all began when David's grandfather, Amil, a man of humble birth, constructed the home in 1910. The home provided comfort, contentment, security, and warmth for his wife, Minnie, and 5 children. A century later, David and Anita continue the legacy of providing comfort, but now to travelers, in the form of Driftless Area Lodging.
Tour Inn & Amenities
After you are graciously welcomed to Amil's Inn, you may sit and relax in the foyer, curl up in the parlor reading one of the many books from the library collection or weather permitting, relax on the front porch and enjoy some of the country living sights and sounds which may include watching an Amish family travel by the Inn in their horse and buggy. Feel free to take a walk of the grounds, enjoying the beautiful organically grown vegetable garden and many flowers. Click images to view them larger.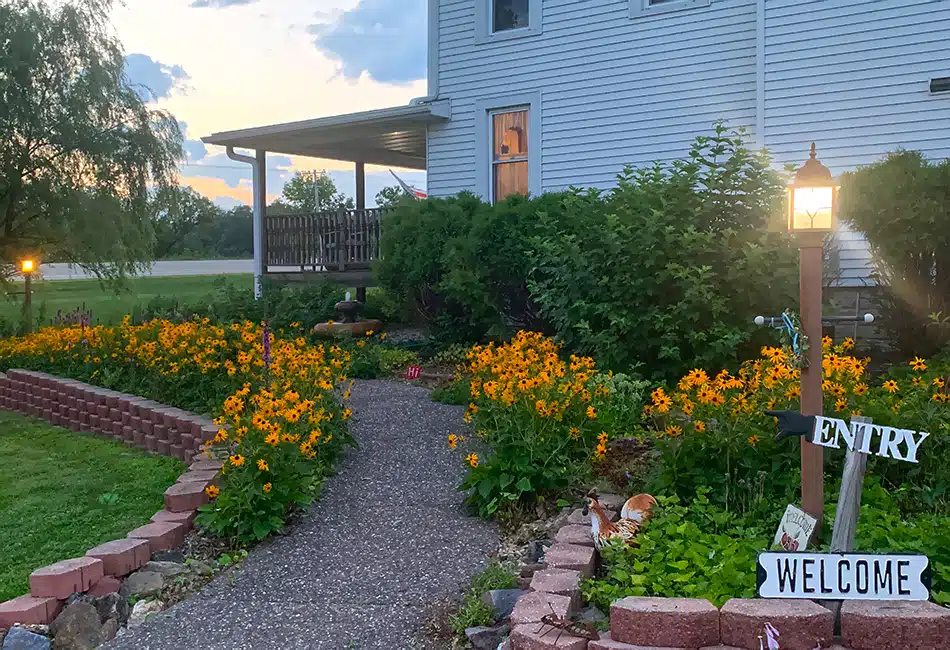 Other amenities available at the Inn are:
Full country breakfast included: more about breakfast
Central air conditioning throughout
Individually controlled heat in each guest room
Early morning coffee available
Organically grown vegetable and flower gardens
Library
Business friendly
Children welcome/inquiry
Ceiling fans in all guest rooms
Hardwood floors throughout
Custom tile work in all whirlpool/tubs and shower
Amazing views: deer, turkey, rock outcroppings
Cozy warm quilts
Line dried sheets in the fresh country air
Hair dryers in all guest rooms
Alarm clocks in all guest rooms
Plush bathrobes
Internet access/wireless
Queen beds in 3 guest rooms, full in the 4th
Entire Inn and guest rooms are smoke-free
Pet free, all guest areas
Refrigerator available for guest use
Complimentary bottled water
Afternoon tea and sweets
Complimentary signature cookies
Mini gift shop on premises
We are a smoke free Inn – please light up the Inn with your smile! Smoking is allowed outdoors, but we ask that you be respectful of other guests. We also are unable to accommodate pets. Amil's Inn is mainly focused in providing a simple, comfortable, cozy atmosphere for adults. Special situations, however, allow for children, so please call to make arrangements. For your convenience, if needed, high speed wireless internet is available throughout the Inn.
What Our Guests Have to Say…"We arrive by bicycle sort of late in the evening and we were greeted by a ringing cowbell on the front porch and a smiling face! That was Anita and you can always remember her name by saying "I need a (full in here)." The farm the land and the people are extremely friendly and we met a variety of new friends at breakfast. Speaking of breakfast, it was top-notch, gourmet and local. Yummy! Our room had everything we needed and more. We were grateful for the air conditioning but especially for the company. It was truly an enchanted stay in the midst of the Driftless Region of Wisconsin." Betsy A.