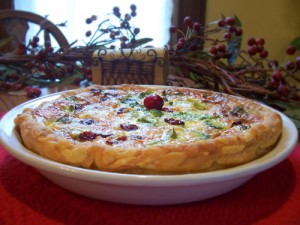 Taste-Test Kitchen baker Anita Reeck demonstrated this recipe – one that she developed – on the Wisconsin Journal program airing on WEAU-TV Channel 13, Eau Claire. The segment was broadcast Jan. 19, 2008, and repeated Jan. 20, 2008.
1 sheet frozen puff pastry, thawed
1/2 pound mild Italian sausage
1/4 cup diced onion
1 clove garlic, minced
1/2 teaspoon salt
1/4 teaspoon pepper
3/4 cup dried cranberries
1 cup Monterey Jack cheese, shredded
1 cup frozen broccoli pieces
5 eggs, lightly beaten
1-1/2 cups half and half
1/2 cup Swiss cheese, shredded
fresh parsley and cranberries for garnish (optional)
Preheat oven to 375 degrees F. In a medium skillet, brown the sausage, onion and garlic. Remove from heat, drain fat and add dried cranberries. Stir and set aside.
Spray bottom of a 9 or 10 inch deep pie pan with non-stick cooking spray. Roll out 1 sheet of puff pastry to fit inside pan, pressing pastry dough up the sides of the pan.
Sprinkle the shredded Monterey Jack cheese over puff pastry. Spread the sausage and dried cranberry mixture on top of the cheese. Next sprinkle the broccoli on top of the sausage mixture.
In a medium bowl, combine the eggs, half and half, salt, and pepper; whisk to combine and then pour into the pie pan. Top with Swiss cheese.
Bake for 40 to 50 minutes or until a knife inserted near the center comes out clean. Let stand 10 minutes before cutting. If desired, garnish with fresh parsley and cranberries.
Yield: 6 to 8 servings.