It's a joy to set out a basket of these moist muffins. These are my all time favorite muffins, and you'll find its hard eating just one!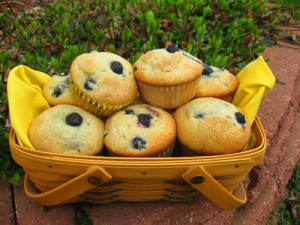 ½ Cup butter (softened)
1 cup sugar
2 eggs
1 cup sour cream
1 teaspoon vanilla
1 teaspoon baking powder
½ teaspoon baking soda
¼ teaspoon salt
2 cups flour (all-purpose)
1 ½ cups blueberries or cranberries* , fresh or frozen
Preheat oven to 375. Cream margarine and sugar together. Add eggs and beat until smooth. Mix in sour cream and vanilla. Combine dry ingredients and stir into creamed mixture. Fold in blueberries carefully. Using an ice cream scooper, scoop into muffin pan that has been sprayed with oil. Sprinkle sugar on top. Bake 25 minutes.
* When using cranberries, add a half cup of sugar to your recipe. Makes 12 muffins.