This past weekend Amil's Inn was blessed to have a house full of guests that enjoyed the Warrens Cranberry Festival.  One of the highlights for one our guests, Paula, was to be able to join the Innkeeper on a trip to the Wetherby Cranberry Marsh near Warrens to gather cranberry vines for guest rooms decorations.
Special cranberry treats are always available to our guests during the Warrens Cranberry Festival weekend. The most requested treat was the Cranberry Bars which came to us from the Warrens Area Cranberry Growers. Every couple requested a copy of the recipe to take home. We thought we would share it with you.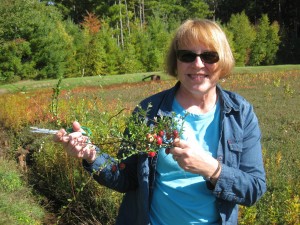 Cranberry Bars
2 eggs, well beaten
½ tsp. salt
1 ½ c. sugar
2 c. whole cranberries
½ c. margarine
1 tsp. vanilla
1 ½ c. flour
½ c. nuts
1 T. brown sugar
½ tsp. baking powder
Mix eggs, sugar and margarine. Add the remaining ingredients and mix well. The batter will be stiff. Spread in a 9 X 13-inch pan which has been oiled and floured. Bake at 350 degrees for 40 to 45 minutes. Let cool.
Cream Cheese Frosting
1 tsp. vanilla
½ c. margarine, softened
1 3-oz pkg. cream cheese
1 T. milk
2 c. powdered sugar
Mix ingredients together until smooth and spread over cooled bars.
The above recipe provided by Warrens Area Cranberry Growers Breanna Zieher, Carol Laux, Lorraine Strozewski, Alice Buan and Linda Lambert.