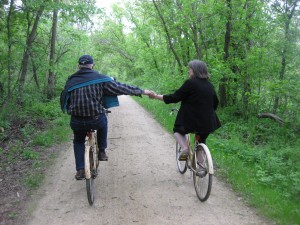 I don't know about you but I am ready for March 1.  You may ask why March 1? The month of March usually gives us the 4 seasons which is a sure sign that winter 2010-2011 will soon be behind us!  Before March 2011 is turned on the calendar, SPRING will officially be here.  I personally LOVE spring.  I love seeing everything come back to life.  I love getting my hands dirty in the garden and breathing the fresh spring air!!!  It must be the "you can take the boy out of the country but you can't take the country out of the boy" syndrome.
What has this to do with Bike 4 Trails!  Wisconsin offers many miles of biking trails.  Many of which are old railroad beds converted to biking trails. Since many of us are considering "staycations" instead of planning longer "vacations", March is a great month to start planning and getting into shape for that biking staycation.
Bike 4 Trails is 101 miles of connected Wisconsin biking splendor on the
Great River State Trail, La Crosse River State Trail, Elroy-Sparta State Trail and the "400" State Trail.  The Great River State Trail runs from Marshland to Onalaska, Wisconsin; the La Crosse River State Trail runs from Onalaska to Sparta, Wisconsin; the Elroy-Sparta State Trail runs from Sparta to Elroy, Wisconsin; the "400" State Trail runs from Elroy to Reedsburg, Wisconsin. Visit www.bike4trails.com for more info and links to all trail websites.
The trails will open May 1 and are open to October 31.  State trail passes are required for all bikers 16 and older.  Day passes as well as annual passes are available which are good on all Wisconsin State Trails.  Bike passes are available at Amil's Inn Bed and Breakfast.
Amil's Inn Bed and Breakfast which is located in the heart of the Elroy-Sparta State Trail would be honored to have you as guests and assist you with making your staycations plans for the Spring, Summer and Fall 2011 seasons.  You may even find your Innkeepers on one of the trails holding hands!!!!!!